Contact Us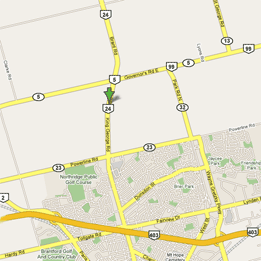 We are located at 513 King George Road (Highway 24), Brantford, ON - (519) 752-0103
DIRECTIONS
From Brantford, take King George Road (Highway 24) past Wal*Mart and Powerline Road until you find us approximately 1.5 KM on the left.

From Cambridge, take Highway 24 South towards Brantford. Once you pass the intersection of Highway #5, we are approximately 0.5 KM on the right hand side.

From 403 take Cambridge Exit Hwy 24 (King George Rd.), Left off exit, right on King George Rd. 3 KM North, Located on Left Side.




Northfield Weather Report
When the Spring Weather arrives we are open 7 Days a week until October 31st. We are open on all Holidays and depending on the percentage of percipitation we will remain open 7 days a week, 100% rain may damper your day of golf, therefore we may close for the remainder of that day.

The hours change 'Fore' times during the season


March/April - 7 Days
11AM to 7PM (8)
As Ground Conditions Permit
Rain or Shine

Summer Hours - 7 Days
9:00AM to 8:30PM
As Ground Conditions Permit
Rain or Shine

Sept 18th - Sept 30th - 7 Days
Weekdays: 10AM to 8PM
Weekends: 9AM to 8PM
Weather Permitting

Oct 1st to Oct 31st - 7 Days
11AM to 7PM
Closing Times is adjusted to Weather Conditions
Please Call Ahead

---
LAST CALL FOR GOLF DRIVING RANGE AND
MINI-PUTT 1/2 HOUR BEFORE DAILY CLOSING TIME

**** management reserves the right to adjust the hours as necessary-
please call to make sure we are open ****
STEADY WEATHER MEANS STEADY HOURS